Posted on: 19th June 2014 |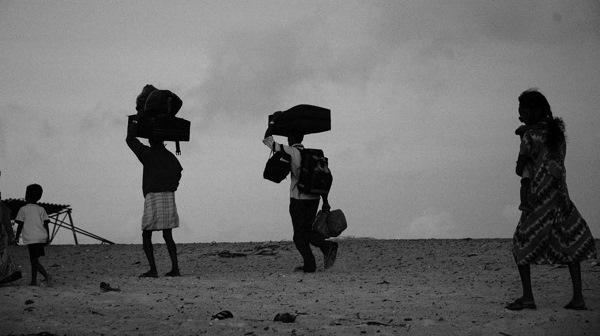 Nadim* often writes reflections about his life as a refused asylum seeker in London. During Refugee Week 2014, he shares his motivations for leaving his country and family, his experience of the journey he made to find safety in the UK and the challenges of destitution. He takes part in creative writing sessions at the Jesuit Refugee Service UK in London.
*Name has been altered.
My story begins when I was wrongly detained by a most vicious security agency in my home country in Africa, led by one of the most hated African tyrants. During my detention, I was tortured. To be honest, at the beginning I was able to cope even in this situation; I somehow thought that what was happening to me and the other detainees would go some way to changing my beautiful nation for the better. But when my life was truly endangered, I made the toughest decision of my life, which was to leave my homeland and seek protection somewhere else. I decided to come to the western world, which was known to me for its endorsement of human rights and for offering aid to victims of such regimes. So, I left my family and friends behind.
It was one of the darkest days of my life, when, after I escaped my country with the help of friends, I fell into the hands of the trafficking gangs. They do not have a single consideration for humanity, or any sympathy with your case or for your problems; they only want to take all of your money, every last penny in your pocket. I consider myself lucky that, although they drained me financially, they brought me to England via a safe mode of transport and showed me the way to the Home Office in Croydon. They then disappeared and left me alone to face whatever was to come next.
What did come, for me, was a series of humiliations and injustices. I will cut short the story of the Home Office: may God forgive them for what they incur on asylum seekers. I felt tortured by the procedures that I had to go through at the hands of this institution, a grievance that is heard all too often by those who work with refugees. Believe me, this kind of mental torture can be more severe than the physical type: with the mental one you might end up in a mental institution for the rest of your life.
The outcome of the process was that I was designated as a failed asylum seeker by the Home Office, left on the streets with nowhere to sleep and with no money for food or transport. I had lost faith in almost everything. Yet it was at this moment I realised the greatness of this British nation: even though I had been denied justice, there were still people able to help refugees like me. There were other agencies that could have provided help to meet my immediate, physical needs; but what was most important for me, what I was most grateful for, was that there were people who respected me as a human being. They treated me in a way that did not humiliate me or make me feel as if I belonged on the margins of society.
It was from the Jesuit Refugee Service that I received this respect. I will always be grateful to JRS for supporting me during the harsh time of my destitution. They restored in me the hope that there is still some goodness in human beings. May God bless them.
Visit www.jrsuk.net to find out more about how Jesuit Refugee Service accompanies asylum seekers like Nadim, and for information about 'Come and see…', an exhibition of photographs for Refugee Week 2014 produced by asylum seekers.
Make a donation to help sustain the work of JRS-UK: www.justgiving.com/jesuitrefugeeservice