Posted on: 22nd August 2019 |
Publication details:
Messenger Publications, 2019; 216 pp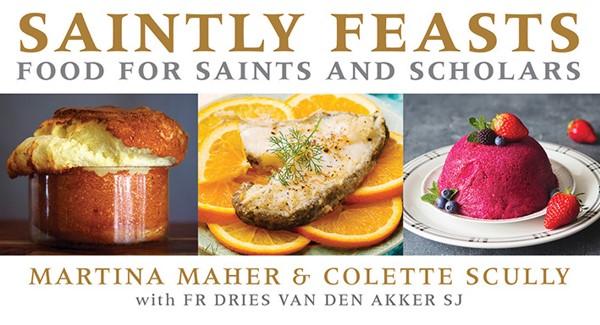 'People will come from east and west and north and south, and will take their places at the feast in the kingdom of God,' proclaims Jesus in Luke 13. The image of the kingdom of God as a great feast or banquet runs through the scriptures. Isaiah offers a mouth-watering description of a meal prepared by God himself, 'of rich food for all peoples, a banquet of aged wine – the best of meats and the finest of wines' (Isaiah 25:6). Perhaps a good dinner shared with family and friends, and not overlooking those in need, is as close as it is possible to come here on earth to the joys of heaven. A new book from Messenger Publications offers a range of recipes suitable for just such a celebration.
Martina Maher and Colette Scully have provided a Sunday lunch for the Jesuit novitiate community in Birmingham for several decades. They have also excelled themselves on major feast days, celebrations of First Vows and similar events. Given that the novitiate serves Britain, Ireland and the Low Countries, with occasional participants from as far afield as South Africa, Guyana and Lithuania, the pair have an international reputation that exceeds that of the many novice masters who have come and gone during their time. Now, in this recipe book, they have been persuaded to share some of their secrets.
The tried and tested recipes run from the traditional – roast prime rib of beef – to the exotic: mango, melon, raisin and fresh tomato salsa. But this is not simply a cookbook. Opposite each recipe the third member of the team, the Dutch Jesuit Dries van den Akker, who is himself a member of the novitiate community, has composed a potted biography of a saint with a link to the food being prepared. While some of the links are well established (it's no surprise to find St Patrick paired with Irish stew), others are admittedly more tenuous. St Meingold, a ninth-century Belgian venerated even today in the town of Huy, makes an appearance because of 'a mispronunciation of his name, "mangold", which suggests mango', so that he is linked with the instructions for baking mango tea bread!
The book is beautifully produced, with fine illustrations of both the foods prepared and the associated saints. It is fitting that the authors are contributing all profits made to support the Jesuit Refugee Service, which works to offer to those who have most need of it the sort of hospitality that these kind of saintly feasts represent.
Reviewer:
Paul Nicholson SJ