Posted on: 13th April 2017 |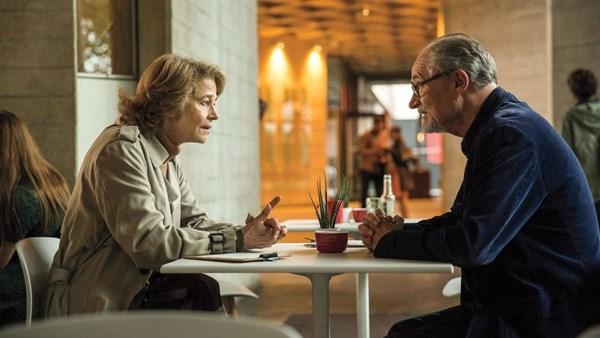 Director: Ritesh Batra
Starring: Jim Broadbent, Harriet Walter, Charlotte Rampling, Billy Howle, Freya Mavor
Certificate: 15
Running time: 108 mins
UK release date: 14 April 2017
Julian Barnes' Booker Prize-winning novel, The Sense of an Ending, is a story told by Tony Webster, who finds himself revisiting the memories of his student days when a diary of an old acquaintance is unexpectedly bequeathed to him in later life. The screenplay for Ritesh Batra's film adaptation, which takes leave of the book's structure, was written by Nick Payne, who wrote the brilliant play, Constellations. Payne says that one of the things that he loved about the novel was that it portrayed memory in an 'everyday way'. It recognises that we actually misremember and misinterpret, unwittingly and unknowingly, all the time, and therefore constantly lie to ourselves. It is about how memory functions in reality – that is, inadequately, both because of its unreliability and because, as the film's tagline says, 'sometimes what we remember is only half the story' – which is contrary to how it is commonly used as a storytelling tool.
The story is an honest exploration of the way in which we write ourselves into and out of events, absorb or absolve ourselves of blame, and ascribe importance to people, places and things according to our recalled vision of the world. Payne has tried to highlight this in his script: in order to emphasise that the older Tony (Jim Broadbent) is seeing his younger self (Billy Howle) through the tunnel vision of his own memories, Payne wanted to portray the contemporary drama as a kaleidoscope of experiences of a wider cast. He wanted to create something of a contrast between a first person narrative of memory and a present, of which we might expect to have a more accurate picture, related almost in the third person.
To that end, Payne has considerably embellished the roles of Tony's daughter, Suzy, and ex-wife, Margaret. The well-judged performances of Michelle Dockery and Harriet Walter, respectively, mean that their characters do not come across as mere literary devices. But this widening of focus does have a negative dramatic effect. When we reach the climax of the story, the revelation of a long-kept secret is so subtle it could almost be missed, and Tony's shock, which ought to have been the conduit for the audience's reaction and the key to us gauging the wider impact, is diluted. It serves to show that for all of our attempts at objectivity, taking a personal investment out of a story, even one that has been misconceived, removes that story of its power. That perhaps speaks to a need for closure rather than fact, to which the story's title (which Barnes took from Frank Kermode's work of literary criticism) also alludes.
I found it interesting that Payne was drawn to this story, given that its main character is in pursuit of a core truth that is finally arrived at by stripping away falsehoods. The afore-mentioned Constellations sees the essence of the relationship between its two leads defined in almost the opposite way; a picture builds up as the audience watches several different interpretations of each scene. There seem to be two very different approaches to storytelling at play here, both of which play their part in our everyday lives. And what is central to both is the function of the imagination. Tony is told forcefully by Charlotte Rampling's Veronica (a former girlfriend whom he reconnects with), 'You cannot imagine' – a pointed criticism of his failure to see a situation for what it is, having settled on his own, false conclusion. 'Imagination always poses a choice, a discrimination between options and a commitment to one and not another', wrote my colleague Rob Marsh SJ in an article for this journal. And if you want to know more about how Ignatius would have us make such a choice, that article is a good place to start.
Any review of the film will be doing its readers a disservice if it does not urge you to read the book, which, at little over 150 pages, will return as great a reward for your investment of time as any other text I can think of. Nevertheless, the film is admirable: it moves at a good pace; the acting is impressive; and the whole project has an emotive power, albeit an understated one. In Levels of Life, Barnes' far-from-understated account of his grief at the death of his wife, he laments the loss of even the memories of her: 'Why should anything happen when everything has happened?... Memory – the mind's photographic archive – is failing.' The Sense of an Ending might not satisfactorily answer that piercing challenge but perhaps Barnes ventures into dialogue with himself through the story, by suggesting that a grasp on the present that gets its strength only from memory, never faithfully re-imagined, may not be the most secure.