Posted on: 27th October 2016 |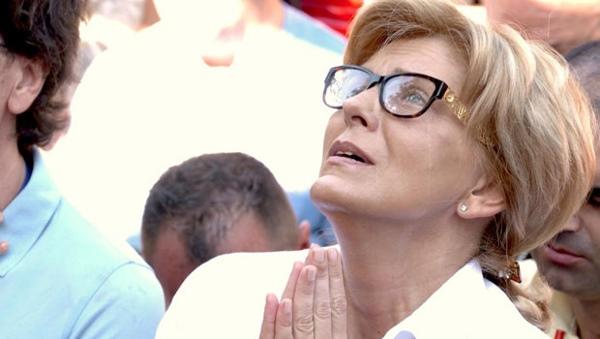 Director: Sean Bloomfield
Certificate: PG-13
Running time: 115 mins
For details of screenings in Ireland, Canada and the USA, visit: http://apparitionhill.tv/find-a-screening
I went into the cinema expecting to see a documentary about Medjugorje. I came out having witnessed an uplifting story about how a pilgrimage turned a group of complete strangers into the closest of friends.
The story starts in 2015 when filmmaker Sean Bloomfield takes to the airwaves and invites the public to send in video submissions saying why they would like to visit Medjugorje, the small village in Bosnia-Herzegovina where Our Lady has reportedly been appearing since 1981. From hundreds of videos – some of which were laugh-out-loud hilarious – he selected seven pilgrims: a woman with terminal cancer, her devoted husband, a former Mennonite (similar to Amish) woman with serious Our Lady issues, a widowed father of nine, two staunch atheists and a drug addict. Apparition Hill is primarily about these people, their hopes, their struggles and their questions. It just happens to take place in Medjugorje.
The film owes its richness to the openness and transparency of these seven, who record their experiences on a personal camera. The viewer is granted a privileged perspective on the pilgrims' interior lives as they tackle a number of big issues head on. Their initial questions are predictable: Does God exist? Are the visionaries faking it? Is there a scientific or psychological explanation for all of this?
Those who initially consider themselves to be objective and rational enough to crack the case eventually find themselves at a loss to explain it all. They are further confounded by the fact that such a concentration of extraordinary things is happening in a very ordinary community of – dare I say – normal people. I would hesitate to describe their 'conversion' as being from unbelief to belief. Rather, as the late Fr Michael Paul Gallagher would say, they cease to be tourists who observe life from the outside with detached skepticism, and they begin to be pilgrims who explore it from within with genuine awe and wonder. They don't yet fully understand whatever it is that their heightened senses are picking up, but you can tell that they feel increasingly happy to be part of this bigger picture, even if it remains slightly out of focus. This unexpected awakening of their inner senses bears all the signs of the road to mature faith.
As the story unfolds, deeper and more personal questions emerge, the sort of questions that are only safe to ask if you are surrounded by love and mercy. These are two things that are not in short supply in this little village and their super-abundance opens the door to the questions and issues that normally hide in the corner: Am I loved? Can I change? How do I trust? How do I let go?
Of course nobody is immune from pain or suffering and Apparition Hill has its fair share of heartbreak. The themes of sickness, mortality and regret are present. By the end I doubt there were many dry eyes in the cinema. That said, these people are very alive: every breaking heart is beating and every opening lets in a little more light. Watching the film taught me yet again that the joy and the sorrow, the laughter and the tears, are all mixed up together.
I suppose in the end what impressed me most about Apparition Hill was that it didn't pander to any pro- or anti-Medjugorje agendas. Its script is the unique and unrepeatable story of seven pilgrims and the message of this film never reaches beyond what they have to say for themselves. I think that cancer sufferer Holly expresses this message very well: 'I'm not here to preach. I'm here to learn.'