Posted on: 18th July 2014 |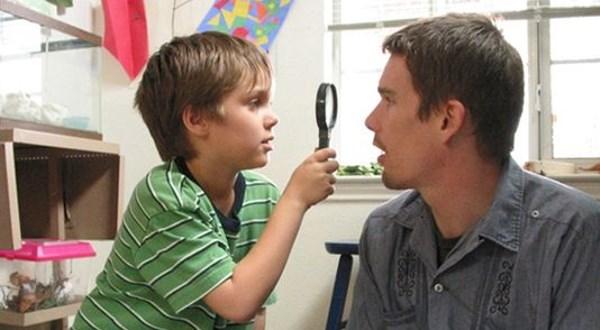 Director: Richard Linklater
Starring: Ethan Hawke, Patricia Arquette, Ellar Coltrane, Lorelei Linklater
Certificate: 15
Running time: 166 mins
UK release date: 11 July 2014
Richard Linklater's new film, Boyhood, is an epic – not in the way in which many modern blockbusters lazily purport to be, but in a literal sense. It is almost as if Linklater took the maxim attributed to St Ignatius – 'Give me the boy at seven, and I will show you the man' – as a personal and professional challenge.
Shot sporadically over twelve years, the film captures the reality of family life with all of its domestic warts and in all of its tender moments of fleeting glory. Perhaps the title is a misnomer: yes, the main focus of the film is the adolescence of Mason Jr (an utterly beguiling Ellar Coltrane); however, the life and trials of his family are so deeply intertwined with his own that this film could be accurately called Family.
Patricia Arquette's portrayal of Mason's mother, Olivia, who feels weighed down by the choices she has made in life, is so realistic that at times it is almost as if one is watching a painfully raw documentary. Her daughter, Samantha, is played brilliantly by Linklater's own daughter, Lorelei. The children's estranged father, Mason Sr, is played by Ethan Hawke with such consummate ease that the character initially seems almost too easy for him – it is the exactly type of lost dreamer Hawke has been playing for years.
However, this is exactly the strength of Boyhood: nothing stays the same. Time slips by right before our eyes. The adults slowly become more wrinkled, a little plumper and greyed, not by makeup, but by the strains of life itself. The children argue and then stretch, gradually becoming awkward teenagers and then assured, if still searching, young adults. And along the way, each of them steals our hearts, coerces our concern for their wellbeing, and demands our attention right to the end.
Boyhood is a triumph, a masterpiece of filmmaking. It captures the essence of the Western world at the start of this new millennium through the prism of a small, struggling Texas family. We experience with them all the bright hopes dashed, lies exposed and faith renewed.
Shot simply and often beautifully by regular Linklater collaborators Lee Daniel and Shane F Kelly, Boyhood is a visual treat, too. Another trait of the director is a perfect soundtrack, and this film is no different. With the clever use of a simple guitar riff or the opening strains of a popular song, we are placed, almost subconsciously, exactly where we need to be for the next few scenes.
At well over two and a half hours, this film constitutes a real investment on the part of its audience, but it is a worthwhile one. The real joy is in the depths mined in terms of story and character. Olivia is complicated, completely lost in her desire to construct a strong family unit for her two children. She puts herself through school again in order to get a better job to provide for them, balancing this commitment with her care for them and her troubled love life. This is modern single parenthood writ large and true, with a mother's unconditional love portrayed effectively.
The film is bruising. At some points it is emotional and at others, hilarious; but it is, at all times, true-to-life. Such is the effect of watching the characters grow before our eyes, of not swapping in another actor who is adept at taking us through the next stage of life, that we cannot doubt for a moment the authenticity of what is in front of us. This is life: fluid, strange, sometimes challenging but unadulterated. Characters change, not necessarily through any massive single circumstance, but through the inexorable march of time and the need to mature. The effects of change are cumulative, and that is perhaps what feels most real about the film.
A special mention must go to the two young stars of the film. Plucked from childhood obscurity (in an acting sense), both Linklater and Coltrane are incredibly brave in allowing an audience to watch them mature on screen. Right from the start, their relationship feels in no way contrived or performed. They tussle in the back of the car, they demean each other and bicker; but as they grow, so does their relationship, and there's a softness in their eyes and an affection for one another that comes from knowing the other person only as siblings can.
Boyhood's narrative focuses on a boy growing up, yes. But there is a larger story: the Western family struggling for relevance and connection in a fast-moving, secularised culture. This film is at once an entertainment spectacle but also a mirror that reflects our very broken modern lives, rather than the social media-sanitised version that we so often want to present. And for this reason, Boyhood is likely the first truly great 21st century American film.