Posted on: 9th January 2015 |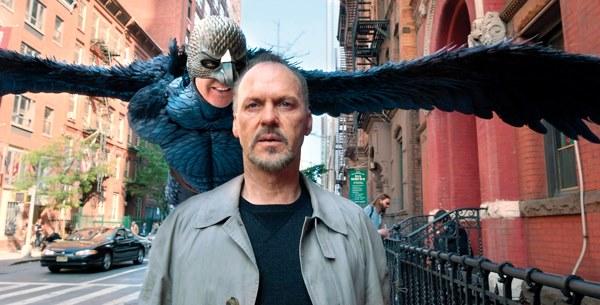 Director: Alejandro González Iñárritu
Starring: Michael Keaton, Zach Galifianakis, Emma Stone, Naomi Watts, Edward Norton
Certificate: 15
Running time: 119 mins
UK release date: 1 January 2015
Birdman's narrative is every bit as off-beat as the pervasive, free-jazz percussion of its soundtrack. The humour that laces the script is dark, and at times it is very difficult to find a redeeming trait in any of the main characters. It is, however, very funny and undeniably prescient, as well as being, subtly but compellingly, one of the most technically adept films of recent years.
The film stars Michael Keaton as Riggan Thompson, a washed-up movie actor who is haunted – literally – by his past. Riggan's major problem is that he played a Hollywood superhero ten years too early, which left him languishing in early 1990s obscurity rather than riding the crest of the wave of multi-billion dollar spectacles that have graced our screens in the past decade. He still believes he retains the inventive magic – again, literally – of this character, but is eager to cast off the shackles of being seen as a one-trick pony.
There is a fantastic meta-knowing at the heart of this film, given Keaton's past as the original big-screen Batman. And it is because there so are many levels on which to engage with this film that Birdman is rescued from the depths of awkward little films and elevated to the heights that it reaches.
Riggan is trying to get his life back in order, pouring his heart and soul (and bank account) into writing, directing and starring in a new version of a successful Broadway play. Beside him is his long-term business partner and friend, Jake, played with a brilliant restraint (for him) and undeniable comedic class by Zach Galifianakis. Together, this odd couple try to bring some semblance of sanity to the riotous production. When the lead actor is hurt, Jake and Riggan must try to find a new, bankable star to take his place before the previews start. And that's when Edward Norton's Mike comes onto the scene. A well-known Broadway method actor, Mike's commitment to the cause initially inspires Riggan, before Mike unravels spectacularly and publically in the first preview. And thus the film begins to spiral into comic madness.
There is a nice turn from Emma Stone as Riggan's daughter Sam, reeling in recovery from addiction and tired of being a mere assistant to her washed-up father. Naomi Watts plays a nervous, self-doubting actress eager for her first Broadway role; Andrea Riseborough is Laura, passionate actor and Riggan's long-suffering girlfriend; and Amy Ryan has some lovely moments as Sam's mother, Riggan's ex-wife Sylvia.
In keeping with the subject, Birdman uses many theatre tropes to immerse the audience completely into its world. Each character is flawed, constantly teetering on the edge of keeping it together and losing it completely, often farcically. The film plays nicely on the tensions between thoroughbred theatre actors and movie stars, between self-involved childish tantrums and moments of true openness. It is over-the-top and absurd, with genuinely funny set-pieces and bewildering, yet still somehow logical, tangents.
But the real achievement of this film is on the technical side. On the surface, this may well be a contained and linear comedy-drama from the director of Babel and 21 Grams, Alejandro González Iñárritu. The film might well have been made by any number of other directors; indeed, there is even a pseudo-Coen Brothers air to proceedings. However, on closer inspection, this is a technical marvel. Acclaimed cinematographer Emmanuel Lubezki and Iñárritu have clearly worked hard to enhance the story with subtle but mind-bending camera work. Adhering to its theatrical approach, the film is constructed as an apparent single shot, using some clever (and some less so) methods to stitch together scenes that are hours and even days apart. There are many scenes that the audience could ponder for hours, trying to figure out exactly how the shot was achieved, and this adds to the magic madness of the film.
True, Birdman will not be to everyone's taste. Some people may not find it funny, some people might not connect with Riggan's struggle. But those that do will find a film that says a lot about the nature of celebrity and fame today, and presents a compelling case that somewhere along the way, we have traded true art for mere entertainment.