Posted on: 12th March 2015 |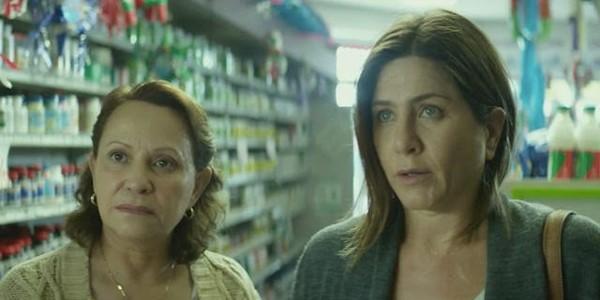 Director: Daniel Barnz
Starring: Jennifer Aniston, Adriana Barraza, Sam Worthington, Anna Kendrick
Certificate: 15
Running time: 102 mins
UK release date: 20 February 2015
Something is wrong. Something is broken. Something is missing. This is what pain tells us, and when pain goes on and on through time, unabated and unchanged, we can be confident that something has gone very wrong, indeed.
This is no secret to the members of the chronic pain support group who meet in a community centre in southern California, among them the scarred and hobbling Claire (Jennifer Aniston). The film opens with the group discussing the recent suicide of one of its members, Nina (Anna Kendrick), for whom, we infer, the pain simply got too much. When a taciturn Claire is prodded into sharing her feelings about it, she does not answer directly, but recites a brassy litany of the events surrounding the death – from the leap off an overpass to the body stuck in customs at Tijuana – which gives a pretty good sense of what we are in for.
Claire's scars obviously run deeper than those on her skin, and she refuses to treat even these with the cream offered by her long-suffering housekeeper (Adriana Barraza). Her preferred remedies are the prescription drugs she can only secure through subterfuge and manipulation, and it comes as little surprise that after six months of physical therapy she shows no signs of improvement. The haggard tactics she employs to get out of her head, as low-key love interest Roy (Sam Worthington) diagnoses the impulse, are no solution for her less tangible injuries.
Because when that car crashed into her – and readers wishing to avoid spoilers may like to stop reading here – it meant not only the ruin of her health and the death of her son, but also the loss of her identity. In her home, where once hung a larger than life portrait of her child, there is now only a nail and empty space, like a splinter lodged in the void at the centre of her unhealing.
Cake is primarily the story of a shattered woman – shattered in body by a car crash and in heart by the loss of her motherhood – but it punches with real weight when interpreted iconically, that is, as a single instance in a wider culture shattered by its 30-year hostility to mothering. Third-wave feminism may be leveling the academic discussion, but in the world of recognised success, making homes is still first runner-up to moneymaking.
The effects of this attitude can be detected in this film in two almost overlookable scenes. Both involve Claire's Green Card-carrying housekeeper, Silvana. In the first, Silvana returns home to her beautiful, twenty-something, scrubs-wearing daughter who is silently watching television; in the second, she drives her employer across the border for bootleg prescriptions and runs into some old acquaintances in a restaurant. These Latina ladies, trim and elegantly done up as against Silvana's dowdy mediocrity, inquire about her life in America. Regarding her daughter, Silvana must respond that, no, she is still not married, but is working hard as a nurse. The two ladies exchange a look, 'This is how they do things in America'.
Blink and you'll miss it, but this is the film in a seemingly throwaway line. A crash has happened before the first scene -- not unlike the cultural crash between the sexes still resounding at Aniston's birth in 1969 -- and Claire's healing begins when she accepts the dreadful truth: that despite everything, she was a good mother. She finds her existential legs again by supplying a homemade cake – whence the title – to Roy's child on his birthday, despite the fact that she had to buy it off a runaway girl from Idaho. And even though this girl rips her off and is only in Hollywood to chase a professional dream, there is no doubt that she has carried the touchpoint of sanity with her from the potato fields, if unwittingly, and despite her concerted exodus from home.
Claire, we learn, is a lawyer by profession. She owns a house with a pool in central LA. She doesn't believe in God, heaven or any of that. And she suffers from chronic pain. Perhaps this is just how they do it in America. Or perhaps something has gone very wrong, indeed.