Posted on: 28th October 2020 |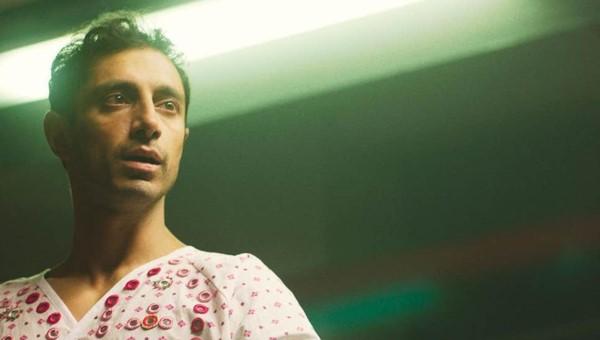 'I ain't got roots to put down, I'm pulling the weeds up.'
These lyrics that we hear performed towards the beginning of the film set the scene for a study of our complicated relationship with the place(s) we do and don't call home that plays out over 90 loud, frenzied minutes.
British-Pakistani rapper Zed (Riz Ahmed) is at the centre of this story. While on a long overdue visit to see his parents in London before he embarks on a career-making tour, he begins to feel the effects of a muscular condition which severely impairs his movement. The tour is not going to happen, even if he comes to that conclusion long after everyone else around him; and his future looks compromised in other ways when he is told that the aggressive treatment will very likely affect his fertility and is advised to freeze his sperm.
The uncertainty that clouds his future ricochets into the past – both Zed's personal history and that of his family, tied up as it is with the Partition of India – as we see flashbacks and hallucinations involving a masked figure who is as imposing and curiously colourful as he is terrifying. These scenes are a visceral representation of Zed's relationship with his heritage: he is fascinated by and fiercely possessive of it, yet not willing to be defined by it. There's no better way to elaborate on this than by directing you to the lyrics of Ahmed's own track 'Where You From', which he performs in the film as Zed.
Ahmed, who co-wrote this film with its director, Bassam Tariq, is as brilliant as ever, oscillating between bravado and vulnerability over the course of the film – over the course of one conversation, in fact, when a phonecall with girlfriend Bina (Aiysha Hart) forces him to confront truths about their relationship and himself. There is no easy peace to be found for Zed in his new reality – he literally spits in the face of his diagnosis and what it means for his future.
Zed's relationship with his father, Bashir (Alyy Khan), is the richest tapestry on display here, woven from those threads of trust, unspoken words and a struggle for independence that are characteristic of so many parent-child relationships. The stories that have shaped Bashir are related only through occasional anecdotes told by his friends and family; his own silence about his earlier life sits strangely alongside the value of passing on tradition that we can read into his reaction to the news that his son may not have children of his own: 'what is a man without children?'
Mogul Mowgli subtly challenges the meanings of success, responsibility and representation. What the film lacks in plot it makes up for in thoughtfulness and in attention to detail in the relationships it depicts, which only serves to make its story more universal.