Posted on: 24th May 2008 |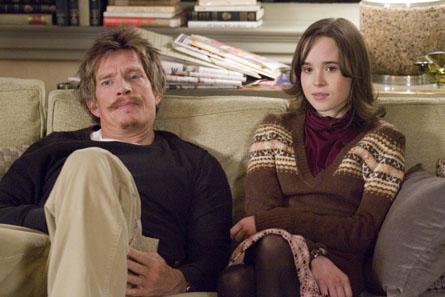 Director: Noam Murro
Starring: Dennis Quaid, Sarah Parker, Ellen Page, Thomas Church, Ashton Holmes, Christine Lahti, Camille Mana, David Denman
UK Release date: 16 May 2008
Certificate: 15 (93 mins)


Dennis Quaid turns in a fine performance as Lawrence, a very depressed professor of English at a university in Pittsburgh, in this thoughtful film from first-time director Noam Murro.



The storyline is an old one about the healing power of love and people's desire for emotional connection. It is told in a slightly meandering fashion.



Lawrence's wife has died – we don't know when – but he is mourning her terribly. He keeps her wardrobe full of clothes and her personal notes and pictures.  His breathing and his gait simply emanate quiet misery and his pain just spills over on to everybody around him. He is nasty to his students, doesn't bother to learn their names, and they don't like him. He hardly notices what is happening to his family. His son (Ashton Holmes), who is studying at the same university, writes poetry which Lawrence hasn't bothered to read. His teenaged daughter Vanessa, played beautifully by Ellen Page, is actually keeping the home running by doing all the cooking and cleaning, as well as achieving straight As at school. But although precocious intellectually she is emotionally very young – terribly dependent on her Dad.  She has no friends and he hasn't noticed.



When Lawrence's car is impounded, he explodes with anger and tries to climb over a fence to retrieve it. In doing so he suffers a fall and winds up in hospital, where he's treated by Dr Janet Hartigan (Sex in the City's Sarah Jessica Parker), who was once his student years before.  Of course, he doesn't remember her.  The character of Janet is very sketchily drawn.  But we are shown that (unlike Lawrence) she is sensitive and caring and involved in various projects working with the homeless.



Chuck, Lawrence's adopted brother (an amusing performance by Thomas Haden Church) turns up and invites himself to stay to 'help out' while Lawrence recuperates.  Although he is a bit of a freeloader, he demonstrates a warmth and wisdom that the rest of the family lack.



Then – in what seems to me a slightly contrived plotline – Lawrence asks Janet out and they begin a halting romance – much to the consternation of Vanessa.  



Somehow all the relationships survive and grow.  Vanessa wins a place at Stanford University. Lawrence gets a book deal.  Lawrence's son has poem published in the New York Times.   As the titles go up all the characters are smiling in what is an unlikely storybook ending – which I am not going to reveal, but is easy to guess.

 

Life can be like this.  People do get over things.  But I am not sure there is enough here to make it a particularly good film.  Other independents, like Wonder Boys, Sideways or Little Miss Sunshine, have been more substantial – and more fun.



Nevertheless there are some first-rate performances and the script has some smart moments.


Josephine Siedlecka