Posted on: 9th December 2008 |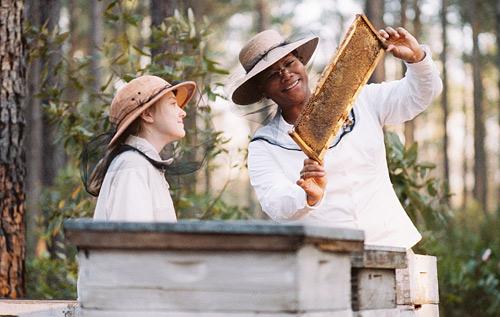 Director: Gina Prince-Bythewood
Starring: QueenLatifah, Paul Bettany, Dakota Fanning, Jennifer Hudson, Sophie Okenodo, AliciaKeys, Tristan Wilds, Nate Parker
UK Release date: 5 December 2008
Certificate: 12A (110 mins)


A terribly earnest movie, The Secret Life of Bees tries to make several heart-warming and important points but is hampered by glossy Hollywood production. Its strong feminist, spiritual and political intentions are laboured and reduced to easy resolutions; there is no sense of struggle or emotional change for the characters. It does feature several charming performances – not least from Sophie Okonedo and the young Dakota Fanning – and casts some light on the tumultuous times of America's civil rights reforms. Nevertheless, it takes itself too seriously, offering vague feel-good mantras without assessing the true cost of learning such wisdoms.
The plot is simple enough. Fourteen year old Lily Owens runs away from her abusive single father, chancing upon a community of sisters who have their own occult Catholic church and manufacture the best honey in the county. Lily (Dakota Fanning) learns various lessons about bee-keeping, love and sisterhood before finding the sisters as surrogates for the mother who died in her childhood. A brief show-down with Dad and Lily remains with the family, loved and cured of the dysfunction caused by her father's neglect and mother's abandonment.
In the background, America's troubled race-relations rumble, although a tentative, intellectual romance between sister June – Alicia Keys in austere mood – and Neil (Nate Parker) offers solace and optimism. Secret Life does not lack ambition. Lily's appearance confronts the taboos of the 1960s, the consequences of slavery are constantly present and even the sisters' idiosyncratic religion bears the scars of oppression.  It hopes to examine both the personal and the political, exposing their intimacy and mutual interdependence. Unfortunately, it ends up as a vehicle for Queen Latifah to dispense homely wisdom whilst wearing a bee-keeping outfit.
Racial beatings, suicide, mental disorder, abusive parenting, even the accidental killing of a parent by a child: everything is seen through rose-tinted glasses, opportunities for moral growth and resolution rather than horrible events. The overwhelming score emphasises the importance of these scenes, bleaching them of resonance and turning the performers into mimes. Overuse of montage undermines the sense of time: a week feels like a year and events that might have happened in close succession are spaced too far apart. Healing, on the other hand, is as simple as throwing a few pots of honey at the door or sprinkling seeds on the earth.
In its enthusiasm to teach, the film becomes a lecture. It never immerses the audience, makes the characters live or vibrate with joy, sorrow or passion.  Good and evil are simplistically drawn. It is full of sensible advice, celebrating both motherhood and sisterhood against a prevalent social trend. It is visually ravishing, and grapples nicely with the ambivalence of black Americans and their Christian heritage – the sisters have evolved their own vision of the Black Madonna. It is a solid two hours of worthy entertainment that never invites deep engagement.


Gareth Vile




 Visit this film's official web site