Posted on: 21st October 2010 |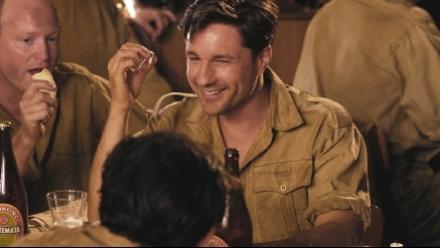 Director: Gaylene Preston
Starring: Tony Barry, Martin Henderson, Christine Preston Crayford
Certificate: TBC (95 mins)


Truman Capote's masterpiece, In Cold Blood, which forms the core of the 2005 film starring Philip Seymour Hoffman, is an extraordinary read. Capote set out to produce a 'non-fiction novel', and In Cold Blood became exactly that, a scrupulously-researched narrative of what actually happened when the Clutter family were brutally murdered on their farm in the American mid-West — simultaneously it is a piece of journalism using the formal conventions and language of the novel, including characterisation and omniscient narration.
Gaylene Preston's film, which received its first UK exhibition at the London International Film Festival 2010, is in formal terms similarly intriguing: this is a non-fiction romance, a non-fiction phantasy, a true-untrue thing.
There are some very real facts at the core of the story. Edward Preston joined the New Zealand army in 1940, saw action in North Africa and then spent the rest of the conflict as a prisoner of war, if only a very short period of it actually in a POW camp (and in that twisting tale of adventure and survival lies the key narrative of the film).
These facts were captured by his daughter, the film-maker Gaylene Preston, in a number of audio-taped conversations with him before he died some years ago, and a dramatic recreation of these exchanges are the formal centre of the film: with Tony Barry (a stalwart of Australian film and television), playing Mr Preston, and Gaylene Preston playing herself. Around these documented recollections, younger actors re-enact what might have really happened back in the nineteen forties, and these imagined recreations are cross cut with archive footage or photo-shopped adjustments of old photographs.
So part of this film is rooted in oral history, its methods, conventions and limitations. Oral history is often used to capture the recollections of ordinary men and women and so give voices to the voiceless, setting the record straight, and challenge the dominant narratives of history, the victors' histories of dead, white men[1]. The elements of oral history that are in Home by Christmas also challenge the conventional views of war: here the focus is not on the grand strategies, the horrific crimes or even the individual moments of heroism but on a marriage under the strain of separation, and a soldier who spent only a few weeks on operations, but four years as a POW.
Certain professional historians have often rejected oral history as sloppy, partial, and subject to doubt, confusion, and the evasions and elisions of memory: oral history is not an artefact from the period of study, it's not written, it can never be truth. Rather than dispute this, Gaylene Preston seems more concerned to blend fact and fiction, [2] and in so doing, explore something about the nature of history, and truth.
Tony Barry's performance as the old soldier deserves an explicit note at this point: it is charming, utterly convincing, and yet he manages to deliver a beguiling irony to Mr Preston's words, which so often — in their bland simplicity — lead us wondering about what has not been said, what fact has been evaded or reduced to passing insignificance.
Take, for example, Mr Preston's near obsession with other soldiers' prostitutes. I have no reason to doubt his assertion that he never went with the women who were either supplied by the New Zealand Expeditionary Force (who maintained a brothel in Cairo), or the Italian Army (who carried a truck-load around the desert with them) but I am intrigued by his description of the first encounter with this particular element of army life. This was in Christchurch, at the start of the war; trainloads of troops had assembled on the quayside ready to board ship and be sent away, and opposite 'a whole street' had been taken over by brothels in response to the arrival of this new and groaning market. Ed Preston tells how an officer, becoming concerned at the effect on discipline, gave his men an hour's extraordinary leave to do what they had to do. 'Did you go?' Gaylene asks her father. 'Oh, no'. He didn't go: he bought a rabbit, a roast rabbit, from a street vendor, and spent the hour tucking-in, enjoying the succulent meat, letting the juices run down his arm to his elbow. It was a magnificent and memorable rabbit. His daughter just leaves that image in the text of her film, as a beautiful metaphor for some sort of physical desire, one that was either satisfied or not. We are invited to fantasise.
Other viewers have noted that what's interesting about Ed Preston's narrative is not what he says, but what he leaves out. This is quite in contrast to his wife's perspective, which forms the counterpoint to his own memories of the war. Following another of Gaylene Preston's films in which her mother's recollections are featured,[3] it is no longer a family secret that during the four-and-a-half years of her husband's exile, Tui was tempted into a near affair with the stay-at-home town photographer. Intriguingly, Gaylene Preston cast her daughter (Chelsie Preston-Crawford) to play her twenty year-old mother, Tui. Rather than documented oral history, the sources for those parts of the film are family stories, the older woman's own identity in New Zealand national life as a result of the earlier film, and the emotional knowledge and deep memory of her grand-mother that comes out in Chelsie Preston-Crawford's performance.
So part of the interest here is the play of the contradiction and contrast between the husband and the wife's perspective on identical events. But it's also there in the explicit violation of certain boundaries: between the true and the imagined, between the real family and their on-screen versions (of either themselves or their own relatives), between fact and feeling, and between the national story of war and the utterly domestic and un-heroic story of seduction and the threat of betrayal.


Ambrose Hogan



---
[1] For example, Lyn MacDonald's They Called It Paschendale (1978), which includes some very frank descriptions of life in the trenches of WWI from the perspective of ordinary soldiers.
[2] She touched on this in her post-screening interview at the LIFF on 19 Oct 2010.
[3] War Stories (Our Mothers Never Told Us, 1996)