Posted on: 27th July 2012 |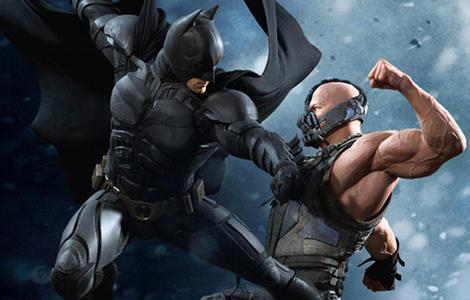 Director: Christopher Nolan
Starring: Christian Bale, Tom Hardy, Gary Oldman, Anne Hathaway, Michael Caine, Joseph Gordon Levitt, Marion Cotillard, Morgan Freeman
UK Release date: 20 July 2012
Certificate: 12A (164 mins)


A city still in mourning after the death of one of its officials eight years previously; a bad guy on a permanent dose of analgesics who likes to inflict more pain than he is in; a cast so stellar it is hard to believe that they will all get a chance to shine; and director Christopher Nolan's ability to deliver extreme action of the highest order. It takes only ten minutes for The Dark Knight Rises to familiarise its audience with these, its essential components, and in doing so the film establishes the pace and quality with which it will continue until its closing credits.
These ten minutes consist of one of the most impressive and exhilarating airborne action sequences that this reviewer can recall. This follows a brief introductory scene in which Police Commissioner James Gordon makes an affirmation of faith: 'I believed in Harvey Dent'. Since his demise at the end of The Dark Knight, the legacy of Gotham's District Attorney has been inspiring his followers but antagonising his opponents in equal measure. Gordon's simple statement of belief is in fact a gateway into the labyrinth of cover-ups, vitriol and devotion that characterise the city's relationship with its fallen hero and provide the narrative fuel to the visual fire of this film.
The moral maze in which Gotham currently finds itself has its origin in super-villain Bane and his attempt to liberate the city from its law-enforcers. Trained in but then expelled from the legendary League of Shadows, Bane claims to be bringing a new justice to Gotham. He wants to give Gotham back to the people, freeing them from their idolatry of Dent, in whose name hundreds of organised criminals have been imprisoned. However, his 'power to the people' crusade is less a reasoned argument for subsidiarity, more an encouragement of vigilante justice in place of courts of law. In robbing the people of their 'Dentism' – for Dent has become something of a deity, with theists, agnostics and unbelievers – he gives them nothing in return ... save the threat of destruction by an anonymous 'triggerman' in whose hands the fate of Gotham lies should any of its citizens try to escape the city. Fear, rather than empowerment and community spirit, takes the place of the authorities in their absence.
Comparison between Tom Hardy's Bane and Batman's previous nemesis, Heath Ledger's Joker, are inevitable. The characters share a taste for inflicting terror and destruction, but the Joker's random, senseless mania is at odds with Bane's ideological goals. Performance-wise, Hardy will not be matching Heath Ledger's impressive tally of awards (most of them, sadly, posthumous), but he still does malevolent like few others. The mask that has been the object of so much criticism did not distort his speech to the extent that some reviews have made out; its primary offence is that it obscures the audience's access to the mind games that Hardy plays so well and that would have no doubt brought new dimensions of menace to Bane. There were hints of Hardy's tortured Heathcliff behind the mask and of his brutally violent Charles Bronson in his physical presence – a terrifying combination that Bruce Wayne was sagely warned to avoid 'trifling' with.
The over-arching narrative could be read through any number of lenses: grief, father-son relationships, the nature of truth, social responsibility, the financial crisis. But in and above all of these is a dynamic of hope and fear. It is not a simple battle between good hope and bad fear, however: hope's vulnerability to subjugation and manipulation means that in the wrong hands it becomes an effective tool to increase despair; elsewhere we are reminded of the strength that can come from a healthy dose of fear. The two are held intelligently in dialectic over the course of nearly three hours, at the end of which the characters' decisions in the face of Gotham's imminent destruction seem to be motivated by some combination of both.
This being part three of a trilogy, there are some inevitable clichés in its resolution, which were less irritating to me than to a friend who found the high intensity, BIG SHOUTY CAPITALS script-writing towards the end slightly tiresome, but nonetheless this is the epitome of going out with a bang. Nolan has again seamlessly woven together action, storytelling and filmmaking. He has established himself as a gifted and innovative director with his three Batman instalments and that other small film he made in the meantime. Where he plants his Director's chair next is anybody's guess but his heavy involvement in the production of 2013's Superman film, Man of Steel ought to be enough to get his admirers interested in another caped crusader.


Frances Murphy




 Visit this film's official web site