Posted on: 19th July 2013 |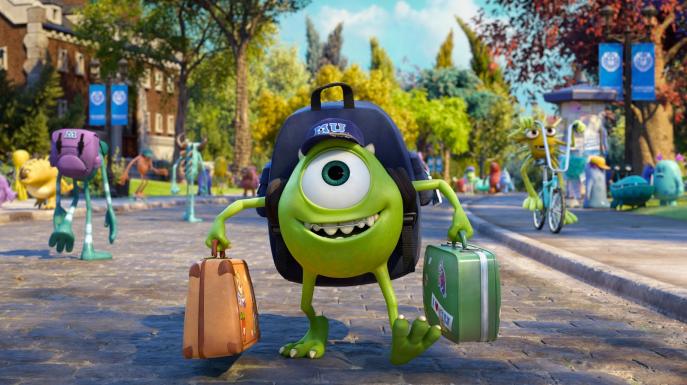 Director: Dan Scanlon
Starring: Billy Crystal, John Goodman, Steve Buscemi, Helen Mirren
UK Release date: 12 July 2013
Certificate: U (104 mins)


Since the release of Toy Story in 1995, Pixar has become a by-word for both quality and innovation in the world of computer animation. The world's first feature-length, computer-animated film kicked off a run of critical and box-office success unparalleled by any major studio before or since, earning the studio 26 Academy Awards and over $8 billion in global box-office receipts. As a result, we have learned to hold Pixar to impossible standards – anything less than a masterpiece and it feels like we have been short-changed. So, no pressure on first-time director Dan Scanlon with Monsters University, right?
Pixar's first prequel, Monsters University takes us back to when tiny green cyclops Mike (voiced by Billy Crystal) and giant blue furball Sulley (John Goodman) first met. In a charming pre-credit sequence, we see loner Mike on a school field trip to the Monsters, Inc. factory floor. Ignored by his classmates, Mike sneaks through one of the doors to the human world to watch one of the 'scarers' at work, and he is instantly hooked. Despite resembling a cuddly toy, he resolves then and there to go to Monsters University and become a scarer.
The film then cuts forward to Mike and Sulley's first days at college, where they are both enrolled on Dean Hardscrabble's (voiced wonderfully by Helen Mirren) scare programme. While Mike, weighed down with books, has the answer to every question on the tip of his tongue, Sulley is determined to saunter through on the merit of the Sullivan name, being the latest from a renowned family of scarers. However, when Mike and Sulley's rivalry causes the two of them to fail their end of semester exam and lose their place on the programme, Sulley is forced to team up with Mike and the rest of the misfits in the Oozma Kappa fraternity as they seek to regain their place on the programme by winning the annual Scare Games.
Prequels always tend to make strange viewing for me, as they already give away much of what is often a film's strongest point – its ending. And so here, while Mike and Sulley bicker, we know from Monsters, Inc. that they eventually become sidekicks. It is this process of getting to familiar ground that needs to be the flesh and bones of a prequel, but the problem with Monsters University is that there just is not a very interesting story to tell. It is essentially a frat-house comedy, the only novelty being that the characters are all monsters. Certain set-pieces do engage, most notably when Mike and Sulley get trapped in the human world and need to scare their way out. Such scenes are few and far between, however, with the rest of the movie following predictable plot-lines and relying too heavily on visual comedy to the detriment of the script.
What sets the great Pixar movies apart is the novelty of their stories – from the toys that come to life in your bedroom to the old man who ties balloons to his house to fly to Venezuela. Monsters, Inc. had a wonderful central premise: the monsters that children imagined hiding in their closets were actually real, trained to frighten them and power Monstropolis with their screams. Most importantly, though, it never forgot to root itself to some degree in the real world, allowing us to invest emotionally in Boo, the little girl who makes her way into the monsters' world. That is the great magic of Pixar – turning our world ever so slightly on its axis and revealing slightly-altered realities that never seem to stretch the imagination too far. In Monsters University, there is neither an interesting premise nor a meaningful connection to the real world. While the quality of the animation is better than ever, the film fails to connect in the way that we expect from Pixar films.
The one saving grace is the now-traditional short animation that accompanies the film, called The Blue Umbrella. Directed by Saschka Unseld, this love story between two umbrellas, one red and one blue, captures everything that is great about Pixar in just seven minutes. It will probably end up winning Pixar their 27th Oscar, in the animated short film category, and it will be well deserved. The shame is that it outshines the main feature to such a large degree. A small idea goes a long way, and I hope the people at Pixar have not forgotten that.


Andrew Cotter




 Visit this film's official web site