Posted on: 4th January 2016 |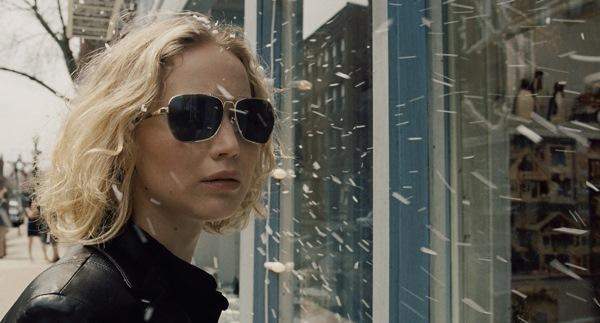 Director: David O. Russell
Starring: Jennifer Lawrence, Bradley Cooper, Robert De Niro, Isabella Rossellini, Édgar Ramírez
Certificate: 12A
Running time: 124 mins
UK release date: 1 January 2016
David O. Russell is a director who has lately experienced something of a renaissance in his career. His last three films – The Fighter, Silver Linings Playbook and American Hustle – have been critically celebrated and gained serious awards recognition. Thanks to their success, Russell finally began to lose the wild-man reputation that he earned with his earlier films such as I Heart Huckabees. And much of this most recent success could be attributed to the combination of Jennifer Lawrence and Bradley Cooper, whose chemistry and box office pull have given Russell a new platform on which to perform.
It is no surprise, then, that Russell tries to catch lightning in a bottle, bringing Lawrence and Cooper together for a third time in Joy, based on the life of Joy Mangano, creator of the Miracle Mop. Joy is a dedicated working mother who is struggling to pay her bills while attending to her larger-than-life extended family. Her difficult journey to build her business encapsulates the fabled 'can-do' entrepreneurial spirit of the American Dream.
The cast is impressive: Lawrence (as Joy) is joined by Robert De Niro as Joy's father, Rudy; Isabella Rossellini as Trudy, Rudy's new millionaire mistress; Édgar Ramírez as Tony, Joy's ex-husband; and Cooper as Neil Walker, the man who ultimately holds the key to Joy's potential fortune. Also along for the ride is Dianne Ladd as Mimi, Joy's much-loved grandmother, who also narrates the film. Strong females are celebrated in this production, with the opening titles explicitly stating that it has been 'inspired by the true stories of daring women'; unfortunately, the ensuing drama does not quite live up to such a bold statement of intent.
Without doubt, Lawrence's Joy is strong, dignified and brave. Her resolve is fierce and her focus sharp – there is no standing in her way once she gets going. Lawrence finds the delicate balance between the creativity of the dreamer, the pragmatism of the businesswoman and the naivety of someone learning the ropes the hard way. Once she is allowed to own the film, Lawrence gladly takes the reins.
However, the major problem is that Russell appears reluctant to allow Lawrence into the spotlight. For all his posturing about this being an ode to feminism, Russell loses his audience to self-indulgence right from the get-go. Indeed, with four editors credited, there is a sense that something might well have been lost in post-production, with the final cut feeling like two succinct – and distinctly different – films.
The opening half of the film is a whimsical, fantasy-laden adventure, which moves too quickly to cover the necessary exposition. There are odd segues from the main narrative to scenes set within the soap opera that one character watches religiously. These set-pieces feel like little more than forced attempts to be different, rather than having any legitimate role to play in the unfolding narrative. The confusion that this creates is further compounded when, halfway through and with no discernible warning, the film suddenly becomes a more straightforward biopic.
By the time the film settles into this rhythm, most of the goodwill from the audience has been lost. What could have been a new Erin Brockovich is actually more akin to a hazy, half-dreamed recollection of an interesting life. And while Linus Sandgren's cinematography attempts to inject pace and urgency into the film, the final product could perhaps have done with fewer film editors and more script editors. As a result, do not be surprised if Russell is not such a commanding presence at awards ceremonies this year.