Posted on: 27th October 2016 |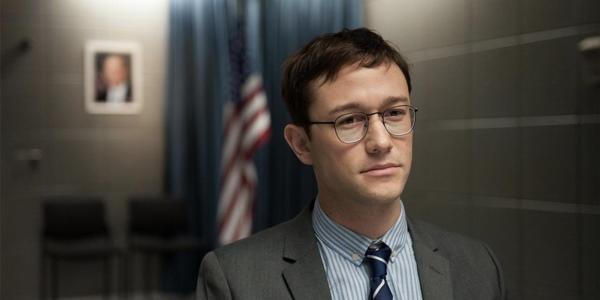 Director: Oliver Stone
Starring: Joseph Gordon-Levitt, Shailene Woodley, Melissa Leo, Zachary Quinto, Rhys Ifans, Nicholas Cage
Certificate: 15
Running time: 134 mins
UK release date: 2 December 2016
Oliver Stone's dramatised documentary of the life and career of Edward Snowden displays the strengths of a Stone movie with, thankfully, a minimum of annoying excesses and self-indulgence. It is a long film – nearly two and a half hours – but the performances of Joseph Gordon-Levitt in the title role and Shailene Woodley as his girlfriend (Lindsay Mills) were engaging and sympathetic enough to keep me watching. There are a few places where the tension is artificially sustained, but the story itself is a strong one; neatly framed by the device of Snowden sharing his secrets with two journalists in a hotel room in Hong Kong, it unfolds easily.
The film draws on two genres, depending on your point of view: the espionage thriller, and the whistleblower speaking (out) truth to power. According to the first account, Snowden is the 'mole', the betrayer of his country and its interests. Of all the places for him to look for refuge, he ends up in Moscow, fleeing extradition and a trial, which he has no reason to believe will be conducted justly. But it is Snowden the heroic whistleblower who is profiled here, exposing the extent and intensity of surveillance undertaken by the CIA and the National Security Agency in a post-9/11, newly fearful world. Snowden sees how, both at home and across the globe, the panoptical obsessiveness of the US has grown into paranoia. He decides to tell all, determined that 'the people should decide' whether they wish to be scrutinised in this way.
His journey begins as a young man, invalided out of the army but with a desperate desire to serve his country, which draws him into the intelligence services. The catalyst towards a more liberal perspective on life is his relationship with Lindsay, a feisty and cheerful but uncomprehending companion. Disillusionment sets in when he learns of the dirty tricks of the espionage trade, but this becomes seriously problematic when he realises the implications of a regime of universal surveillance – for example, that his lovemaking with Lindsay might be observed through the webcam of his computer. Snowden cleverly turns the tables on Big Brother when he suggests to his employers at the NSA that he construct a mega-programme to provide a search engine or index of all the intelligence being gathered worldwide. It is this information which he is then able to download and smuggle to the journalists. Its publication makes him a hunted man, forced to reside in Russia (where he remains to the present day, and where Lindsay has joined him). In the climactic scene of the movie, Snowden gives an interview to a US audience by satellite link from Moscow, an interview which culminates in rapturous applause from the auditorium.
In terms of where our sympathies ought to lie, Stone's movies are easy watching – he does not do even-handedness. The character of Edward Snowden is sympathetic and awkwardly likeable, a geek with a heart. In terms of moral awareness, he is head and shoulders above his colleagues, brilliant but spaced-out dudes who find the darker side of their work difficult to comprehend. Over a beer Snowden points out to them the Nuremburg principle, that 'obeying orders' is not a justification for complicity with wrongdoing. It is clunky scene, as is a didactic presentation of the extent and absurdity of US paranoia later in the movie. But these are not overly distracting. There is an interesting hint at the anguish of their superiors, the generation that has to live with the guilt of allowing 9/11 to take place, as Snowden's CIA mentor Corbin O'Brian (creepily played by Rhys Ifans) puts it. Stone recognises an alternative viewpoint, that 'the American people don't want freedom, they want security'. The sentiment would be worth exploring further; placed in the mouth of a senior CIA official, however, it comes across as pure cynicism. Stone hints at moral complexity rather than exploring it.
The film's US release is perfectly timed, as the US election reaches its crescendo. Given the effective meltdown of any coherent barrier between the private and public lives of the presidential candidates (and even between truth and falsehood, for that matter), Snowden will have a particular resonance. I am not sure it alters the shape of the election, especially? The 'choice' between an emotionally incontinent Donald Trump, and a Hillary Clinton who for many is retentive to the point of secretiveness, is distinctly unappetising. Clinton is disliked because she appears to have something to hide; Trump is disliked because (tax returns aside) he doesn't. Snowden will not usher any uncommitted voters toward either candidate – though to Stone's credit, it should be noted that for all his liberal sympathies he does not hold back on the criticism of President Obama's role in the Snowden affair.
And this is where the message of the film does jar, just a little. Snowden's insistence that 'the people should decide' is a heroic clarion-call for accountability and transparency, an expression of faith in the democratic good sense of the populace. The global degeneration of political culture in 2016, by populist leaders and movements appealing to fear and the need for security rather than a love of freedom, would suggest there is more to be said.
Perhaps this is the task of a filmmaker other than Oliver Stone. He at least has done his bit. Snowden is a well-made, sympathetic account of a remarkable story – not without its depressing aspects, but at its centre, a brave and honourable man.
Reviewer:
Michael Kirwan SJ