Posted on: 20th July 2017 |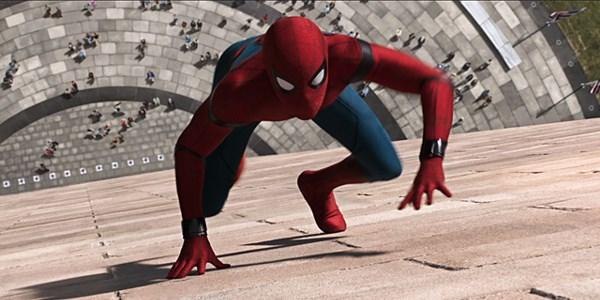 Director: Jon Watts
Starring: Tom Holland, Michael Keaton, Robert Downey Jr, Marissa Tomei
Running time: 133 mins
Certificate: 12A
UK release date: 5 July 2017
The reviews haven't been overly kind to Jon Watts' Spider-Man: Homecoming. Plenty of the diagnoses – that it's too 'gadgety', that it does little more than transpose a classic teen movie formula into the key of Marvel , that it celebrates the partnership of government and private industry – hold water, but there are talking points to be found by considering each of these 'flaws'.
Yes, Spider-Man gets to wear a Web 3.0 version of the famous suit, which gives him an endless list of tricks to hold up his sleeve, literally, and the power to do a lot of damage. But as we all know – and learned from this very source, in fact – with great power comes great responsibility: the responsibility to take stock of one's power and learn how to decide if, when and how to use it. This film teaches about that responsibility, albeit in negation. There have been complaints that the additions to the suit stray too far away from the essence of Spider-Man, and the fact that the best action sequence is the one in which he goes back to basics to scale the Washington Monument does support that. But we might be grateful that the changes show us, by its absence, why the practice of discernment is so important, a lesson in which the actor in the suit, Tom Holland, a Jesuit school alumnus, is no doubt well-schooled.
Holland is younger than his two predecessors in the role (Tobey Maguire and Andrew Garfield – the latter has also had a taste of Ignatian spirituality) and he does excellent work in the film. His energy, angst, stubbornness, awkwardness and affection all burst off the screen and shape the personality of a teenage boy who is characterised by his eagerness to please. Anyone who was charmed or excited by Holland's introduction to the Marvel Universe in last year's Captain America: Civil War will take delight in the opening sequence, a vlog shot by Peter Parker documenting his initial encounters with Tony Stark and what happened behind the scenes of that war. It's funny, it's endearing and it's important, because it situates this Spider-Man in the age of social media, where his real-life contemporaries are feeling increasing pressure to document their lives online and live up to the standards that they find in the curated presentations of their peers' lives. The anxiety that this causes is surely a fundamental component of a modern day 'teen story'. So perhaps it's no bad thing to tell a story now about someone so desperate to be on a par with their idols that they neglect the character formation that must come before deserved achievement and true heroism. There is good counsel behind Tony Stark's reprimand of an over-zealous Parker, about the futility of trying to engineer one's worth in the eyes of others: 'If you're nothing without this suit, then you shouldn't have it.'
Stark not only sees himself as a guardian of Parker in his fledgling career, but as a watchman over all of the Avengers and Avengers-related activity, and as such he partners with the authorities to take on the secure clean up and disposal of the alien material remaining after the Battle of New York. The contract for that job was originally awarded to a small-town salvage company headed by Adrian Toomes (Michael Keaton), whose dealings are portrayed as amateur and haphazard in contrast to Stark's slick venture, whose size, scope and success have until now been embodied in its headquarters. It's key to the plot that Avengers Tower, which looms over New York, is being sold –the Avengers' operations are moving to a new, high-spec base, since it's no longer deemed appropriate that a monument to the agenda that has divided public opinion (and the Avengers themselves) stands in the middle of New York. That might sound familiar: the proponent of a divisive agenda, whose business interests have turned political, moving from a New York tower to a new base that affords infinitely greater influence. If we can attribute Stark's move at least partly to humility and a need to rethink, re-strategise and do better, we might worry about the lack of that motivation elsewhere.