Posted on: 9th January 2015 |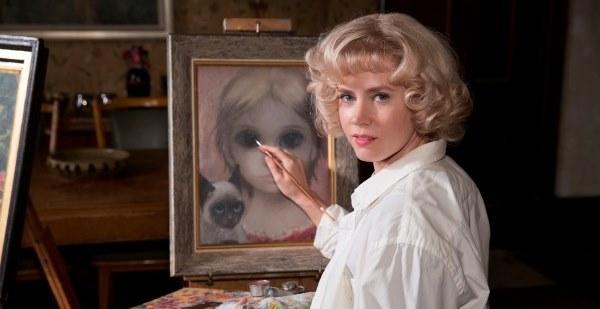 Director: Tim Burton
Starring: Amy Adams, Christoph Waltz, Krysten Ritter
Certificate: 12A
Running time: 106 mins
UK release date: 26 December 2014
A new Tim Burton film is always greeted with giddy excitement, the audience full of expectation that the final piece will be unlike anything else out there in terms of pure imagination, production design and a transcendently powerful soundtrack. After all, this is the man behind the classic Edward Scissorhands and the recent re-imaginings of Alice in Wonderland and Charlie and the Chocolate Factory. Sadly, however, Big Eyes feels less like a Tim Burton masterpiece, and more like a biopic-by-numbers.
Telling the remarkable true story of painter Margaret Keane (Amy Adams), Big Eyes is set in late 1950s and early 1960s California. The film picks up her story as she leaves her first husband, in a time, the narrator tells us, 'before it was fashionable to do so'. Her efforts to find her feet and provide for her daughter include selling some of her original paintings at weekend fairs. At one such event, she bumps into Walter Keane, a man used to telling big stories and enticing attractive women. Christoph Waltz seems to have had a great time bringing Walter's nuances and idiosyncrasies to life; there is no lack of maniacal madness whenever Walter is in the frame. Soon they are married, and as Walter is as passionate about art as Margaret is talented, the Keanes find themselves at the centre of a stir in the local community.
The problems begin when Walter starts to take credit for Margaret's work. Before long, the 'big eyes' style has become a phenomenon, and Walter and Margaret's secret begins to take on a life of its own. The writers, Scott Alexander and Larry Karaszewski, are no strangers to interesting characters, having previously made Man on the Moon, the Andy Kaufman biopic. Here, however, it almost seems as if they thought that the oddity of the Keanes' story itself would be enough in to create a tantalising world. Sadly, they were wrong. It is very difficult to feel anything other than mild amusement at the narrative, and the characterisations, however close to real life they may be, feel flat and uninspiring.
Waltz does a good job at distracting from the mundanity with some eccentric comedic moments, but Adams gets lost in the plot, along with any empathy we might have with her character. While Margaret's decisions do seem to fit with the times – Walter suggests he ought to take credit for the work because no one would buy art made by a woman – the audience struggles to connect with the emotional wrangling at the heart of the story.
The film is littered with cameos from credible character actors, all of whom are sadly underused. Danny Huston is a gossip columnist who helps the Keanes along the way, Terence Stamp is a bitter art critic, and Jason Schwartzman is an uninterested art dealer; but none of them really manages to lift the film to the next level. The most engaging actor outside of the main couple is Krysten Ritter, who plays Margaret's friend DeeAnn. There is at least some depth to her character, and Ritter's portrayal is honest and strong.
The director's signature colour palette is the only real clue that this is a Tim Burton film. Even Danny Elfman's score never really takes hold; we have come to expect so much more from the talented composer. All in all, this is a disappointing film. While it is not exactly a complete waste of time, there are very few positives to take from an hour and three quarters of what is essentially a domestic dispute.