Posted on: 5th October 2021 |
Publication details:
Faber & Faber, 2020; 104 pages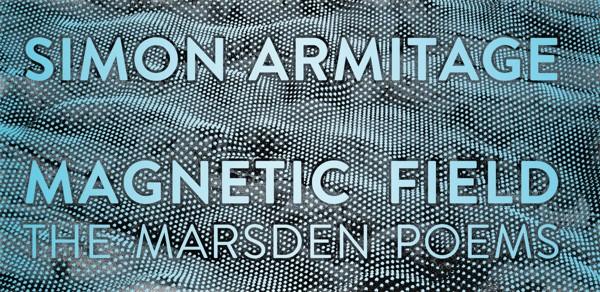 Simon Armitage, Poet Laureate and Professor of Poetry at the University of Leeds, is from Marsden and these are indeed the Marsden poems, For Armitage, Marsden is an original and present place: family, friends, life and location. A magnetic space.
By the age of eleven I had lived in five different counties, sometimes with more than one address in each. So Simon Armitage's rootedness in one well-remembered, alive and original place makes me vaguely jealous. Marsden is a village in West Yorkshire on the A62 (yes, not the M62) a few miles shy of the Lancashire border. In his introduction, Armitage describes it as 'liminal, transcendent and transgressive', a place whose territory is 'a vast emptiness, full of terrifying and electrifying possibilities'. Some of my childhood landscapes, or shorescapes, seemed both hugely 'inviting' and 'promising'. What words best fit such places is a fine question to explore – Armitage's 'transgressive' has a nice edgy and adventurous tone.
There are some fifty poems, whose page numbers match the numbers on Neil Gower's maps on the inside covers. Early on Armitage studied geography, a discipline in which imagination and cartography are old friends. There are also many photographs – grey and off white – which mark and evoke the village and the attending moorland. Most of these poems have appeared before, but are now collected in one volume – plus half a dozen new poems which will come out in a future collection.
Windows
The windows of the terrace-end house were the vantage point for seeing the village. It's where poetry became possible and came to be. The inside similarly counted – the kitchen window 'distraught with steam' and his mother 'manhandling shirts, / hauling drowning sailors / from sea to deck'. Later there will be a new 'Kitchen Window', though the face behind it 'came close… then fell away further'. 'The Shout' remembers a fellow schoolboy who subsequently shot himself in South Australia, his schoolboy shouts in the game still heard. 'Emergency' has to do with the disappearance of fire station, bank and post office – and the defeated petrol garage owner 'inhaling his ghost / in a disused quarry / by coupling the lips of his car exhaust / to the roots of his lungs / via a garden hose.' Tragedy, however, is not characteristic of this careful collection. Nor, indeed, is nostalgia or simple celebration – though Marsden is duly celebrated. There is also connection and discovery.
Outside there are tasks: in 'The Chisel', 'shaping / millstone grit to raise a wall' when the raised hammer 'brings home / the height of Puddle Hill…' – a wonderful and uncertain name. In 'Privet', when sent to trim the hedge 'because I'd done wrong', the miscreant is sat down on top of the hedge when the task is over: 'released to the universe, buried in sky.' Punishment becomes a wonder. There are also moments of strange mystery. In 'The Tyre' a tractor tyre is found on the moor near to nowhere, is manhandled and eventually let go, rolling out of sight down the road to cause whatever imagined disasters. But it vanishes, 'not just gone but unseen and unheard of', it outruns everything, 'and at that moment gone beyond itself / towards some other sphere and disappeared.' Not only no disaster, but a matter of dimensions.
Connecting
In 'True North', returning home triumphant after a term at Portsmouth Poly down in the Deep South, people in the pub are given lectures. The last of these is about how Bosnian wolves on the shoreline, 'wait for the weather, then / make the crossing when the Gulf heals over.' Here 'heals' is precisely right – a word which holds the whole move of the poem together. Gulfs of many kinds do need to heal. 'It Ain't What You Do, It's What It Does To You' is a fitting travelling companion. There have been upmarket or fashionable exploits like crossing America coast to coast, experiencing the spaciousness of the Taj Mahal or parachuting, 'but I held the wobbly head of a boy / at the day centre and stroked his fat hands':
And I guess that the tightness in the throat
and the tiny cascading sensation
somewhere inside us are both part of that
sense of something else. That feeling, I mean.
Connections matter with whatever uncertainty they come: In 'White Christmas' we find, 'I'm the man in the joke, the man in a world of friends / where all the clocks are stopped, // synchronising his own watch.' In this world of people the moor stays put. In 'On Marsden Moor' two men steadily haul poles and slabs of dressed stone up above the tree line. But 'what if', the engaged spectator wonders, 'those poles were fencing posts' and 'those dumb stones / the first steps to a new Jerusalem?' Armitage tells us his poem 'Snow' is carved into the exposed flank of Pule Hill above Marsden, the first of six 'Stanza Stones' on a trail to the far side of Ilkley Moor. A snowfall leaves 'The moor in coma':
What can it mean
that colourless water
can dream
such depth of white?
We should make the most
of the light.
A trail marked by Stanza Stones is a trail to be walked, even if you need to imagine the stones.
Compass
Where we are and what we do both invite careful noticing. Two poems, both encountering poverty, are said to be 'after Laycock', whose statue graces Marsden village. Samuel Laycock (1826–1893) moved to Ashton-under-Lyne, wrote Lancashire dialect poems and died in Blackpool. If Laycock is 'the Marsden poet', it is good to find Armitage is securely part of a fine and remembered local tradition. He is not alone, though a poem, 'The Mariner's Compass', does imagine a boy sailing the world single-handed and ends: 'Under these rules, close contact / with another soul means disqualification.' Given the elaborate tensions and complex wisdoms of our recent lockdown conditions we may well need something of a mariner's imagination, a navigator's persistence, as well as a new-found or remembered rootedness.
Brian McClorry SJ is a member of the Corpus Christi Jesuit Community.