Posted on: 22nd October 2014 |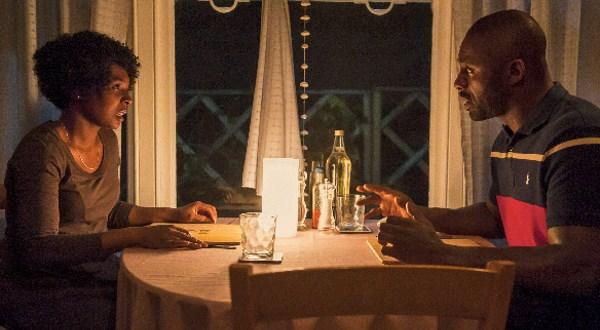 From the 58th BFI London Film Festival programme.
Director: Debbie Tucker Green
Starring: Nadine Marshall, Idris Elba, Sharlene Whyte, Kai Francis-Lewis
Running time: 105 mins
The gospels are laconic about the effect of Mary's pregnancy on her relationships with the people around her. It is left to us to re-enter that ancient world and explore those relationships imaginatively, as in Tony Jordan's tender recreation of the nativity for the BBC (2010). But it is a further work of the imagination to ask what such an event might look like here and now, in 21st century England.
Second Coming explores just this question as it follows Jax from her discovery of an impossible pregnancy through the slow months towards birth and the increasingly complex evolution of her relationships with family and friends. Director and screenwriter Debbie Tucker Green plays on the fact that we know from the outset at least the broad directions of the narrative. This allows her storytelling to be understated, implicit in the everyday encounters. The film makes us look carefully at fragments of detail, in a slow time during which the emotional and imaginative kaleidoscope is being steadily turned.
Jax (Nadine Marshall) is black British. Her family is originally from the West Indies. She works at social services and lives with her husband, Mark (Idris Elba) and son, Jerome (Kai Francis-Lewis), in what might be any suburb on the fringes of South London. Mark is a construction worker on the railways, likeable, fair-minded and loving; Jerome – 'JJ' – is in year 7 or 8 at secondary school, bright, a talented artist and dreamy. We get hints throughout that Jax has a history of difficult pregnancies and that JJ's safe arrival was a minor miracle.
We first encounter Jax at week 8, where she has just heard the news and been given her options. Her first confidante is her friend Bernadette, whom she asks for advice about abortion. From then on we see her carrying her dilemma and her secret through the banality, affection, tiffs and humour of the daily round: work, school, eating together, bed.
The event creates a barrier to her love-making with Mark, and this becomes more than just a matter of holding a secret. Every time they draw close she finds herself pulling back. We see her drawn aside into an increasingly violent vision of a mysterious rain that falls on her in her own bathroom.
Much of the interaction is carried by context, silence and richly expressive faces. As the tensions mount, Jax becomes increasingly terse, radiating conflicting emotions of affection and anger, obduracy and uncertainty, and with it all a sometimes resigned, sometimes resentful commitment. We do not hear her offer any explanation, even after the pregnancy becomes known. As the family tensions start to rise, she becomes a silent and ambiguous rock around which the conversations, the gossip and the accusations ebb and flow.
The eyes of the nature-loving JJ lead us to the visual counterpoint of the everyday scenes. He draws birds as he daydreams during lessons, looking out of the window at sun and sky. He makes us look away from the routine of his lessons into a richer world of nature that we do not control. His real life takes place in a clearing surrounded by woodland, which seems to be in spring throughout the film. There he tries to coax first a magpie and then (successfully) a jackdaw into his hand. When his friend handles it roughly and its wing is broken, he takes it home to nurse it until it dies. They bury it solemnly in the garden. But JJ's dreaminess is the dreaminess of insight: it is he who first recognises and declares that Jax has a baby, and asks to say goodnight to it.
We return often to the trees and the clearing, and over the course of the film it takes on the feel of a sacred grove – a place radically different from the everyday of school, office, dinner table. In time we see Jax sitting there, first with JJ and eventually on her own, as events draw towards their conclusion.
Time in the film always has direction, but it is the direction of a multitude of still moments. Perhaps (I am male and do not know) that is what pregnancy feels like. The script feels authentic, with well-observed everyday language and wit. The acting is beautifully natural and the characters real and engaging. There is a nice little touch at the end, which ties together some of the visual themes and may be a nod to the apocryphal tradition. In all, this is a film vision of a great 'what if?' well worth contemplating.
Reviewer:
John Moffatt SJ