Posted on: 24th October 2014 |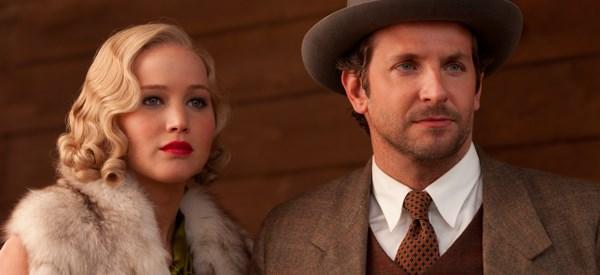 From the 58th BFI London Film Festival programme.
Director: Susanne Bier
Starring: Jennifer Lawrence, Bradley Cooper, Toby Jones, Rhys Ifans
Certificate: 15
Running time: 109 mins
UK release date: 24 October 2014
Jennifer Lawrence's body has been in the news for all the wrong reasons of late, but it is possibly the best reason to see this film. The subtle physicality of her performance is the most captivating feature of this tale of a mercurial woman, the telling of which is otherwise hindered by clunky dialogue and other flaws in this adaptation of Ron Rash's 2008 novel. Not having read Serena, I cannot comment on the film's adherence to the text, but an online search suggests that the two narratives follow the same arc, albeit with a few discrepancies in detail. The story begins in the mountains of North Carolina in 1929 and follows the eventful marriage of George (Bradley Cooper) and Serena Pemberton (Lawrence).
The Lawrence-Cooper partnership is nowhere near as effective as it was in 2012's Silver Linings Playbook (for which she won the Best Actress Oscar and he was nominated for Best Actor). Their initial chemistry is sufficient to make believable the union between his lumber yard owner and her 'beautiful, wounded, mad about trees' local girl with a tragic past. But as the mood of the film darkens, their dynamic does not really keep up. Serena's all-but-wordless rapport with Rhys Ifans' brooding Mr Galloway and her antagonistic relationship with George's business associate, Mr Buchanan (a compelling David Dencik), are far more intriguing.
The trajectory of the film is not at all obvious at the outset, but when things begin to take shape they do so fairly quickly. There is nothing too complex in terms of plot, but it does feel as if a few shortcuts were taken in characterisation. On more than one occasion did I question the motivation behind an action or attitude. I overheard a fellow audience member saying as we left the cinema that Galloway in particular was a richer character in the book and was given to quoting the Bible. Had the religiosity of one or more characters been better developed (all we have in this regard are a few references to and shots inside a chapel), then the proceedings might have stood up to a bit more scrutiny; as it is, even the most significant incidents fall a bit flat. The main events are bizarre, yet they unfold in a manner which is curiously predictable... with the exception of the penultimate scene, which drew a surely unintended laugh in what is a decidedly humourless film. There might have been a poignancy to the event that it depicts, had it happened off-screen, but it is difficult to imagine how it could have been rendered to serious dramatic effect.
Given that the film bears her character's name, it is fitting that Lawrence is the shining star. Her almost imperceptible shifts in posture propel Serena from awkward to assertive to fragile; and the end of the film sees her manipulate her limbs and her porcelain face expertly to transform herself into something of a marionette doll. In doing so she tugs on the sympathies of an audience who have grown hostile to Serena, recasting her at the finish line more in the mould of Tess of the D'Urbervilles than of Lady Macbeth – someone who has played the hand she was dealt and lost, rather than a dealer who has lost control of the game. Lawrence is on much the same form as she was in the bleak but gripping Winter's Bone, which earned her the first of her three Oscar nominations. It is a shame for her that there is little else in this film to act as a tailwind to her chances of being recognised for this performance.