Posted on: 17th April 2014 |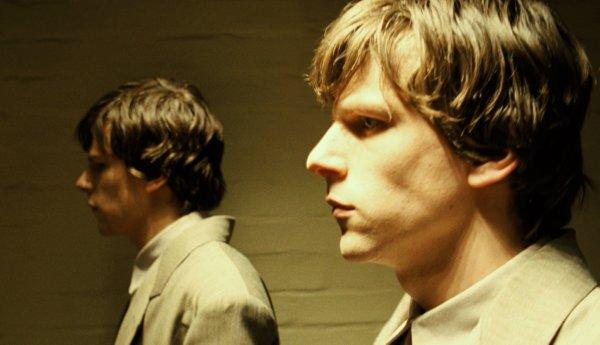 Director: Richard Ayoade
Starring: Jesse Eisenberg, Mia Wasikowska, Chris O'Dowd, Sally Hawkins
Certificate: 15 (93 mins)
UK release date: 4 April 2014
It is not difficult to see how Richard Ayoade, currently Britain's finest comedy actor-turned-director, would empathise with the main character in his new film, The Double. Simon James is stuffy, awkward and struggles to express his emotions. If you have ever seen The IT Crowd, the sitcom in which Ayoade stars, you will know that he will not have had to dig too deeply to be able to direct such a role.
You can just imagine Ayoade standing poker-straight before the potential financers of his latest film, taking a deep breath and shuffling awkwardly on his feet. Because while the finished product is a fantastic success, The Double must have been hard to pitch. This film has thematic echoes of Chuck Palahniuk's Fight Club, which showcased the masquerade of millennial masculinity, but it is almost as if that narrative has been re-imagined as an off-beat, art-house, psychological thriller.
Based loosely on Dostoevsky's novella of the same name, The Double introduces us to Simon, who is struggling to fit in to an uncaring, apathetic world. He has a deep-seated affection for a colleague, Hannah (Mia Wasikowska, here straying down a different kind of rabbit hole), a charming but troubled woman. Simon's mother thinks he is a failure, the people at work get his name wrong and nobody appears to appreciate his obvious-to-the-viewer intelligence. One evening, Simon witnesses a suicide, which shakes him up but inadvertently allows him an opportunity to speak to Hannah.
And then, mysteriously, a new co-worker shows up – James Simon; physically identical to Simon but great at all the things Simon isn't. James is a suave ladies man. He oozes confidence and makes the employers laugh. James absolutely shatters Simon's fragile existence. Slowly, Simon's world starts to implode, and he feels powerless to stop it.
This film features two stellar performances from Eisenberg, in the roles of both Simon and James, His portrayal of the worried, obsessive Simon naturally brings laughs, but also an undeniable truth; he so completely inhabits the character that even small things like rigid hand gestures serve to show the audience Simon's struggling emotional state. On the other hand, his James harks back to his interpretation of Mark Zuckerberg: externally oozing confidence and pizzazz, which masks a selfish, arrogant willingness to trample on anyone to get to the top. This has all the marks of a career-defining film for Eisenberg; it makes you excited to see what he does next.
The same can be said for his director, Ayoade, who is fast becoming this generation's Terry Gilliam. He has graduated quickly from TV sitcoms to become a genuinely interesting feature film-maker. His latest film has distinct marks of the work of the auteurs of the 1970s and 80s when they were starting out on long, distinguished careers. Ayoade clearly is a man who loves cinema and who can mine influences to create a truly original work. The central concept of a gifted but lonely man at odds with a harsh, industrial world echoes David Lynch's Eraserhead or Darren Aronofsky's Pi. It is hard not to imagine Ayoade having the success of either of those directors.
The sound design is incredible and quickly situates the audience right in the middle of this eccentric world. The cinematography is slick and smooth, with a colour palate that upsets, full of crushing shadows, sickly yellows and rancid greens. And for those who enjoy a surprise or two, there is a Wes Anderson-level of hilarious cameos. It is best not to find out beforehand, but keen-eyed fans of recent UK cinema and comedy will have some cause for chuckling.
Fans of Ayoade's debut feature Submarine will not be disappointed, but this is a drastic step up from that parochial, Welsh coming-of-age story. The Double retains Ayoade's undeniable sense of comedy but also flexes his dramatic muscles and heightens the excitement about what the future holds for this talented director.