Posted on: 21st January 2016 |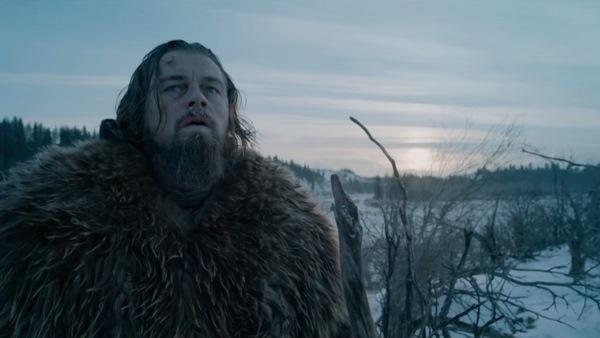 Director: Alejandro González Iñárritu
Starring: Leonardo DiCaprio, Tom Hardy, Domnhall Gleeson, Will Poulter
Certificate: 15
Running time: 156 mins
UK release date: 15 January 2016
In their 2006 interview with Alejandro González Iñárritu, Christianity Today described the director as a storyteller who is 'unafraid to portray characters in states of depravity, desperation, and despair. There is a burdensome weight to [his] pictures, giving us the sense that the world is getting very dark indeed. Hope is not lost, but it only glimmers in the occasional traces of compassion and care.'
Ten years on, the same could still be said of his work. Iñárritu has another three films under his director's belt, all of which meditate on despair in markedly different ways. The magical realism of 2009's Biutiful was 'destabilising'; last year's Oscar-winning Birdman was fast-paced, verbose and satirical; and now The Revenant offers a studied portrait of grief, land and physicality. The story of the events leading to and from the separation of real-life frontiersman Hugh Glass from his companions (including his son) on a fur-trapping expedition, it looks set to be a landmark in the impressive careers of its director and its leading actor, Leonardo DiCaprio. Both are committed, brave and resourceful, which makes the 'burdensome weight' of this excellent piece of art a considerable one for the audience to carry.
It is visually rich, something of a love letter from cinematographer Emmanuel Lubezki to the wilds of North America in all their charm and severity. What's interesting is that Lubezki is not afraid to let the audience know that the camera is there: at various points the screen is clouded with breath, and spattered with precipitation and even blood. Paradoxically, the reminder of the barrier behind which the events are happening only serves to make them seem more immediate; maybe it gives a sense that the viewer is there, holding the camera, not watching a filtered image at a distance of space, time and reality from the events. One particular fight scene, filmed in a single, continuous shot, creates the same effect but via different means. The unintrusive camera work gives full access to what is happening and leaves it to the viewer, rather than the cameraman, to find their perspective.
With the exception of the categories for screenplay and score, The Revenant is nominated for every Oscar for which it is eligible. Its inclusion in some categories is a surprise (the dubbing in some scenes is noticeably out of sync, so whether its nomination for sound editing is justified, I'm not sure); its exclusion from others is not: as has been noted elsewhere, it doesn't feature an actress in an in-any-way-significant role.
In a year in which the discrepancies between the way in which Hollywood treats men and women have attracted their fair share of attention, this is almost admirably bold timing for the release of what has been called an 'unthinkingly, aggressively masculine' film. Those female characters whom the film does reference are defined by their elusiveness, their existence communicated to the audience through the dialogue of a tribal chief in search of his kidnapped daughter, Powaqa, and via dream sequences (in the case of Glass's deceased wife).
This wasn't, at least for this viewer, a problem, but there may be a way of considering this film that might unlock it for anyone for whom this is a barrier. In one scene, Glass has an ethereal vision of his wife, which shifts into a dream sequence in which he finds his son standing in the ruins of a church and embraces him in front of an image of Christ crucified. If you follow any school of thought that sees the Holy Spirit as feminine, or at least as some mode of expression of natality, then perhaps this scene could act as a Trinitarian lens through which to view the film: the spirit of Glass's wife somehow infuses his journey, it is the foundation and mediator of a father's relationship with his son, and is therefore a constant presence. I'm reluctant to labour the point, not least because of the risk of it being read as an attempt to justify the at-times extreme (but never gratuitous) violence; but suffice it to suggest that this film is more than the empty showcase of virility that some fear it to be.
It's hard not to comment on the film and its contemporary relevance in the light of Laudato si'. DiCaprio dedicated his Golden Globe award to the world's indigenous peoples, those for whom land which is degraded by commercialisation is, as Pope Francis reminds us, 'a sacred space with which they need to interact if they are to maintain their identity and values.' While the film does not exactly romanticise the plight of its Native Americans by depicting them as defenceless victims – the first set piece sees them brutally ambushing the trappers' camp – neither is it afraid to raise an eyebrow at the intentions of those who seek to exploit land and people to their own ends. Even the expedition's largely affable and level-headed captain (Domnhall Gleeson) is heard to say that he wants to 'shoot some civilisation' into the natives. Perhaps it's not just the craftsmanship behind this film that makes this 200-year-old story, fuelled as it is by greed and arrogance, seem so present.