Posted on: 24th November 2015 |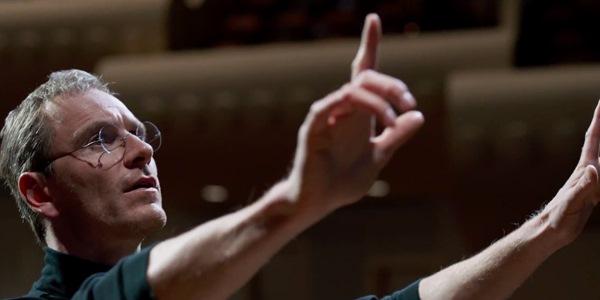 Director: Danny Boyle
Starring: Michael Fassbender, Kate Winslet, Jeff Daniels, Seth Rogen
Certificate: 15
Running time: 122 mins
UK release date: 13 November 2015
Hollywood is in the throes of a love affair with Michael Fassbender. He is following his critically acclaimed Macbeth with another plumb part, but Steve Jobs may be a more elusive soul to illuminate than even Shakespeare's notoriously inscrutable hero. Oscar-winner Aaron Sorkin gives it an artful shot, delivering a crafty, layered script (from Walter Isaacson's book of the same title) to introduce to us this legend of the digital revolution. He raises the curtain on Jobs banging around backstage in the frenzied moments before he introduces three new computers to the world: the Macintosh in 1984, the NeXT in 1988, and the game-changing iMac ten years after that. All this behind-the-scenes drama allows us to meet an array of Jobs' allies and antagonists, played by some terrific actors who seem to be having a ball: Jeff Daniels as Apple CEO John Sculley; Seth Rogen as Steve Wozniak, the brains behind the Apple I computer; Michael Stuhlbarg as Andy Hertzfeld, another key player on the original Mac team; Katherine Waterston as the mother of a child Jobs won't accept as his; and the invaluable Kate Winslet as a marketing exec who sticks by Jobs through his eureka moments and career highs, as well as his professional failures and the shaming lows of his personal life.
The movie looks sharp, moves at a clip and is always entertaining – with this much chatter and activity your attention won't wander often to the iPhone in your lap. But it feels as if something is missing. It could be that the innovative Danny Boyle isn't the perfect director for the job. He certainly brings energy and style to the proceedings, and keeps the cameras barrelling along (which seems, at first, to suit Sorkin's penchant for writing scenes where people walk fast and talk brilliantly). Eventually, though, you may wonder if the camera, script and even the actors might calm down long enough to let us have a proper look at this complicated innovator about whom everyone in the film is making such a fuss, and who did so much to usher in the era of all our computer gadgetry.
That never happens. For all the interesting history and period detail, I wanted to know something deeper about the person for whom the film is named. But unlike Sorkin's masterful incision into the life of Facebook founder Mark Zuckerberg in The Social Network, he never seems to locate the nail on which to hang his portrait of Jobs the Man. For all Jobs' charisma, charm and market savvy, who exactly is this odd fellow who can manage three rings of a circus without breaking a sweat but perversely refuses to acknowledge paternity of his only child? Not every actor can deliver the kind of radiant performance that Saoirse Ronan does in Brooklyn, such that every muscle in her face seems to show us all sorts of things about what's happening for her character emotionally; and although Fassbender never fails to convince us that the wheels upstairs are always turning, his effort only takes us so far.
Perhaps having sensed this, the film's creators leave most of the emotional heavy lifting to a pushy score by Daniel Pemberton, and to Kate Winslet. A resonant moment late in the film comes when Winslet's character, having bitten her tongue with Jobs long enough, lashes out, bringing to his attention his 'reality distortion field', a term appropriated from Star Trek by an Apple colleague to describe Jobs' unusual gift of being able to convince the world of nearly anything, through a powerful mix of chutzpah, persistence and high-octane charm. But the term held darker connotations for anyone outside Jobs' 'distortion field', and the sudden thought that he might himself be a victim of his own salesmanship held in it the glimmer of something interesting. 'I am poorly made,' Jobs confesses at one point, and there's a short but compelling interlude where we see him revisit certain moments from his life and question how he's ordered and valued them: are the facts properly weighed after all? Has he solved the Algorithm of Steve Jobs correctly? But it all comes late in the game, and the movie feels emotionally back-loaded, despite an excellent last scene between father and daughter that doesn't quite do enough to close the gap left by the less revealing two hours that have preceded it.
At the end of the film, I heard the girl next to me say to her date, 'What a jerk.' Exiting the cinema, I realised that it's true that not every genius is loveable, or maybe even all that knowable. But passing a row of idling city buses at their stop, and looking at the people inside lost in their phones and the world Steve Jobs helped create, I thought: who knows? Maybe this is what we get from the heroes of our age: fast-moving fragments that may not add up to much of a finished picture. While the movie doesn't cover the 2007 launch of the iPhone or any of the professional hits that were still to come for Steve Jobs – let alone his tragic early death in 2011 – what we get may be plenty to keep us company on our iPads on our next two-hour flight, or Friday night at home with friends, settling in with our pizzas and beer and Apple TV.